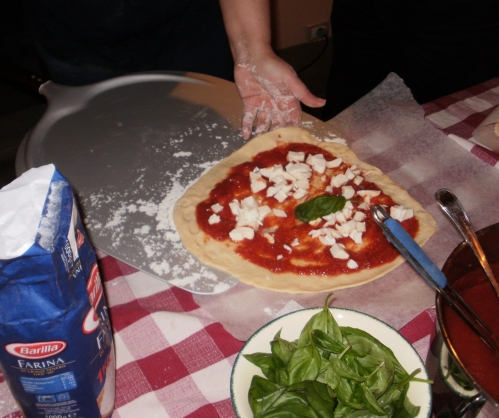 Recipes and Photo

Pizza
My Pizza is very easy to do, here are the ingredients:
1 kg of flour
600 grams of warm water (never too hot)
25 g of fresh yeast or a table spoon full of dry yeast
a teaspoon of salt dissolved in the warm water
extra virgin olive oil to use it for make the dough balls.
Put the flour on your work surface and make a hole in the center where you will pour the yeast then add the water (25 degrees C approximately), and begin kneading by hand until the yeast will be dissolve.If you have kitchen aid you ca use it with the hook.
Continuing to knead until will have absorbed all the water and have formed a nice soft dough, now put it to rest for at least 2 hours covered with: a wet (with hot water) and floured kitchen towel and covered with at least two very warm blanket.
After one hour and half you can start to separated a pice of 200 grams from the large dough (that you will cover again because it's need to remain warm) using the extravirgin olive oil. Cover again all the bolls you have made it and let them rise again for one hour and half until they duble the size. Start to make pizza without squeezing too hard but use your fingertips to dimple the dough and spred it to cover the pan or in the shape you want to be cooked in the wood oven. Now you can top the pizza with your choice of toppings but if you are going to use the house's oven wait until the end of baking time to add any cheese, in the wood oven is not necessary.
Remember the oven must be preheated very hot or if you use the wood oven light a fire no less than three hours before. When you' spread the dough and put the toppings you like you will add a beautiful spiral of extra virgin olive oil from the center to the edge leaving a half inch around the edge without sauce, or even add to the pizza before serving, depending on how you stuffed your pizza. Some examples of fillings:

Focaccia White
spiral of extra virgin olive oil, coarse salt, fresh rosemary.

Margherita:
The tomato sauce for pizza, and all the tomato-based pizzas, must be prepared in advance. In a pan cook the tomato with a pinch of salt and a teaspoon of sugar to remove the acidity 'from tomatoes. It should cook for at least half an hour, until the sauce will 'become beautiful creamy. Add to the pizza margherita and then top the pizza with basil and fresh mozzarella, cutted into small pieces. When the pizza will be 'cooked add a beautiful spiral of extra vergin olive oil before serving.