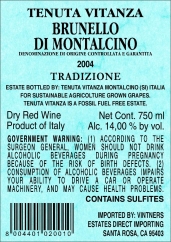 Appellation: D.O.C.G.

Grapes: 100% Sangiovese.

Vineyard's age: 18 Years.

Wine-making: Pre-soaking in a cold temperature for three days; pump-overs following the density and the temperature under computer control.

Aging: 36 Months in large Slavonia barrels.

Bottle refinement: 12 Months.

Production: 30000 Bottles

Time of Release: After 5 years from the harvest

Organoleptic Characteristics: Color: Deep red ruby.

Perfume: Bouquet intense and complete, with ethereal aroma of woods where was aged.

Taste: Full body very smooth and powerful with strong and precise character.