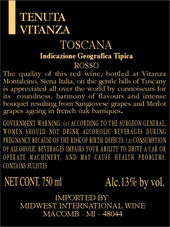 Appellation: Supertuscan IGT Toscana "QUADRIMENDO"

Varietal: 50% Sangiovese 50% Merlot.

Age of vineyards: 11 Years.

Wine-making: Pre-soaking at a cold temperature for three days; pump-over's following the density and the temperature under computer control.

Aging: 12 Months in Franch tonneaux.

Bottle refinement: 12 Months.

Production: 20000 Bottles.

Time of Release: After 2 years from the harvest, in April.

Organoleptic Characteristics: Colour deep red ruby, clear.

Perfume: Intense with characteristic note of pepper and green pepper.

Taste: Dry red with a powerful but smooth body.